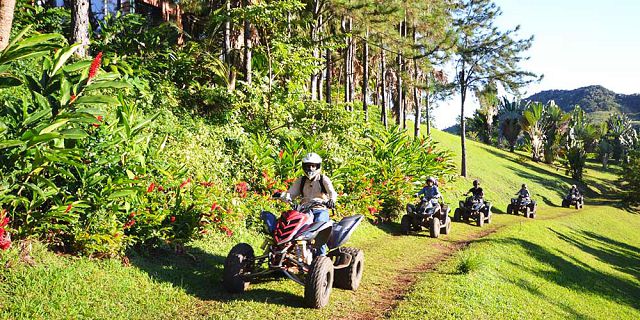 Come and discover thrills !
La Vallée des Couleurs is often referred to as one of the most stunning nature park of Mauritius. With this activity you will be provided with the opportunity to discover the  forest and the mountains in a unique way. Race through the rough landscape and explore waterfalls, cross through rivers, discover the local flora and fauna and refill your adrenaline level by driving your own buggy or quad.
Location

South

Operating hours

9:00 – 17:00

Duration

1H 

Operating Days 

All days

Activity time

Flexible

Transportation

Offered with a supplement

Remark

You need ticket to the park to do the activity. 

You can choose your quad or buggy.
After your activity, you can choose to add the optional La Vallée des Couleurs Lunch Package, a 3-course set lunch menu at the park's restaurant La Citronelle. The Restaurant is found in the midst of the indigenous fauna and flora of the park.
Additional information
• The minimum age for driving an own quad or buggy is 16. The minimum height for driving a quad is 1.35 meters.
• Children above the age of 6 can join this experience in a double quad bike. (accompanied by an adult over 18 years old)
• Each client is obliged to drive an initiation circuit prior to the start of the actual activity in order to let the guides judge the driving capacity of each client.
• Clients are obliged to wear protective clothing, a helmet, gloves, eye protection and appropriate footwear (preferably closed shoes or boots)
• Pregnant women are not allowed to participate in this activity for safety reasons.
Remarks
• La Vallée des Couleurs park is opened every day of the year, including December 25 and January 1.
• The duration of the quad/buggy experience is 1 hour.
• Lunch can be held in La Citronelle restaurant between 11.00 and 14.00, this is under a supplement.